This post may include affiliate links, which means we make a small commission on any sales. This commission helps Feminist Book Club pay our contributors, so thanks for supporting small, independent media!
When it comes to family-friendly programming, my fam gravitates toward animated shows with a sense of humor we can all appreciate, whether we're 8 years old or middle-aged. The shows we watch also tend to use serialized storytelling, allowing us to follow along with a strong and exciting narrative arc. Also, they tend to be magical AF.
Unfortunately, all serialized shows must come to an end. For that reason, we have wallowed in melancholy after watching the finales for everything from She-Ra and the Princesses of Power to Gravity Falls to Star vs. the Forces of Evil… before eventually accepting that it was time to move on.
But when The Owl House came to an end, it just hit different.
What in Hecking Heck is The Owl House?
The Owl House is an animated fantasy series created by Dana Terrace that premiered on the Disney Channel on January 10, 2020 (though my family didn't start watching it until sometime in 2021, when we streamed it on Disney+). In its very first episode, Luz Noceda, a teenage Afro-Latina human who's obsessed with magic and witches, is about to be sent off to a summer camp that's intended to help her fit in with her peers. She's bummed about it, as she's never really felt accepted for who she is. So when she accidentally stumbles upon a portal to the Boiling Isles, located in the Demon Realm, it seems that fate has provided her with an alternate path.
She immediately falls in with Eda, a rebellious witch who practices wild magic, and King, a tiny, dog-like warrior. Instead of looking for a way home, Luz decides to take advantage of the fact that her widowed mother assumes she's made it to summer camp. She stays in the Boiling Isles so she can learn magic and, as the season continues on, Luz collects a bunch of magical friends and begins to come into her own.
Why We Love The Owl House
The rich animation used for The Owl House really brings to life the effed-up Demon Realm, a place populated by characters who make my horror-loving heart squee (especially Hooty, a truly unhinged, sentient, owl-like… door?). The humor is layered enough to entertain both my 8-year-old and us adult-types. And, well, my child loves anything set in a world in which magic is the norm.
But what I love even more about this show is its diverse cast of characters, which gives strong representation across race, gender, sexuality, and ability. The show isn't about these various, overlapping identities. Rather, diversity just is.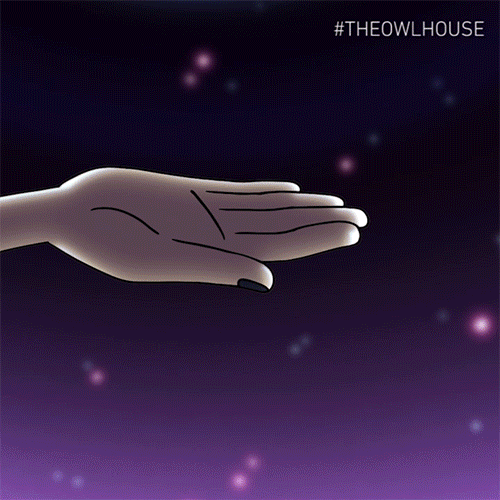 This runs counter to what the latest wave of real-world book banning and educational censorship attempts would have you believe. In a world in which even just acknowledging the existence of LGBTQ+ folks or racism is considered a crime, a show that presents folks as being fully themselves is a revelation.
Finally, beyond some really important lessons about friendship and making mistakes and asking for help, etc., I just really dig the overarching theme around the importance of being yourself, rather than making yourself smaller in order to conform to a majority.
Sure, my kid spends her time after episodes drawing glyphs (I have been forced into glyph battles) and making incredibly elaborate palismen. But at the same time, she's being exposed to a world that normalizes the things that are different about each of us.
What Happened to The Owl House
So why am I so peeved that The Owl House came to an end when, naturally, all good things must come to an end?
Here's the thing. The Owl House was allegedly canceled before the first season even finished airing. This despite the many accolades it received, and an incredibly enthusiastic fandom. At the time, the second season had already been produced, or was in production. I'm unsure of the timing. All I know is that my family was in the middle of streaming the second season when it went on an abrupt hiatus in August 2021, disappearing for seven long months. When my family and I attended New York Comic Con in October 2022, we learned there would be a third season. This was apparently announced at the show's first and only Comic Con panel ever (a panel we, sadly, missed), an event that drew a shit-ton of of cosplaying fans, hundreds of whom were turned away at the door. What we didn't find out until much later is that the third season would not be comprised of the usual 20 half-hour episodes. Rather, it would be made up of three 44-minute special episodes. And they would be the last episodes ever.
Excuse me?
Why Was The Owl House Canceled?
There has been a ton of speculation surrounding the cancellation of The Owl House. Some accused Disney of canceling the show because of the company's discomfort with LGBTQ+ characters and storylines. Others wondered if the show hit the financial skids during the thick of the pandemic.
With all of these fan theories swirling across the internet, showrunner Dana Terrace eventually took to Reddit to give her take. "Was it the LGBT+ rep?" she wrote. "While we have had issues airing in a few countries (and are just straight up banned in a few more) I'm not gonna assume bad faith against the people I work with in LA."
Terrace also expressed skepticism that it had anything to do with budget/financial issues related to COVID-19, or with ratings. The ratings were good. People loved the eff out of The Owl House.
"SO WHAT WAS IT?!" she asked. "At the end of the day, there are a few business people who oversee what fits into the Disney brand and one day one of those guys decided TOH didn't fit that 'brand.'"
Terrace went on to write that part of this brand incompatibility had to do with the fact that her show's audience skewed older than was ideal for Disney higher-ups. Also, these days, Disney seems to prefer shows that are not serialized, something gone into at length in this video by The Roundtable, an entertainment-focused YouTube channel.
Wherever this brand discordance stems from (and I am still side-eyeing the fact that an LGBTQ+-friendly show was done dirty), it's truly a shame that a show that so masterfully celebrated folks being their truest selves was ended prematurely.
What Now?
The Owl House's final episode aired back in April. I'm writing about it now because we finally watched it. Afterward, Em (my own magic-loving kid) began sewing her own palisman. In October, she plans to cosplay as Eda for New York Comic Con.
As far as TV goes, we're not sure what show to watch next as a family. Recommendations are always welcome in the comments. (Please. God. I do not want to suffer through endless YouTube videos of other people playing Minecraft because we've run out of good shows. Save me.)
What I can do is recommend some all-ages comics that have similar vibes.
First of all, check out the entire Lumberjanes series, which I'm pretty sure I've mentioned eleventy-billion times on this blog. It's about a group of summer campers who get up to various hijinks in a forest filled with mythical creatures. And there are a ton of volumes to work your way through, so you'll be good for a while.
Another one I've for sure mentioned before is Snapdragon, a graphic novel about a young girl who befriends her town's witch, managing to find herself along the way. In addition to the similar themes about witchcraft and coming into one's own, the diverse representation rocks.
Then there's The Backstagers, a series I started reading soon after discovering Lumberjanes. It follows a group of high school outcasts who find their people in stage crew. There is romance. There is drama. There are Emotions. And then there's that door backstage that happens to lead to…a magical world?Another dimension? Hard to say, but this series is charming as hell.
A few runner-ups that skew only slightly older are Hollow, Specter Inspectors, and Nimona. The queerness. The supernatural. The conventional tropes turned on their head. These comic series and graphic novel have it all.
Leave your own recs in the comments. And while The Owl House may be over, we'll always have its fandom.