This post may include affiliate links, which means we make a small commission on any sales. This commission helps Feminist Book Club pay our contributors, so thanks for supporting small, independent media!
The first time I watched the series finale of Insecure, I cried. This show has meant so much to me over the years I watched it. Issa Rae is a cultural curation genius, and we need to give her all the flowers she deserves.
I recently rewatched the show when it was added to Netflix. From comedy to character development, Insecure is objectively a good show. It was unapologetically Black, but it was also universal. Issa Dee was a late 20s, early 30-something trying to figure out life, friendship, and love. Frequently Black stories are relegated to the margins because they aren't relatable, pushing the narrative that whiteness is the default, universal experience.
Insecure was THAT show, and here are three reasons why it was one of the best shows of our time (as adult millennials).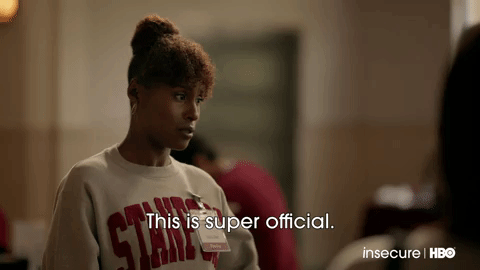 The Evolution of Friendships
I will loudly say with my chest that Insecure is a better show than Friends. The way friendship was shown in this show was so intimate. We saw them having a great time; we saw them support each other during difficult times. We got to see how adults navigate friendships from multiple angles.
Adult friendships can be hard. We're busy and don't have a lot of time to just hang out when we have families, jobs, and responsibilities. I can't imagine having a friend group and support system as robust as Issa's friend group. Even though most of the characters didn't have explicit or traumatic experiences, we get to see them come together as a chosen family.
Insecure delves into all the shenanigans of romantic relationships and dating, but Issa and Molly were the real love story for me. Their relationship had its fair share of ups and down, but we got to see them work through it and always find their way back together. They put in a lot of work to grow together as people, and it was the most beautiful thing to see in a world that places romantic relationships over female friendships.
Black Cultural Showcase
Like I said before, Insecure was Blackity Black Black! The creators used every opportunity to highlight Black art and culture. The Spotify playlist of all the music featured in every season was always lit. The creators exposed us to all kinds of music by Black (and sometimes other artists of color) artists.
And it didn't stop at music. We also got to see so much art featured by Black artists. From street art to multimedia to fashion, we saw Black art in so many different forms. Again, when we think of art, we don't often think of Black artists and their contributions outside of hip-hop culture. Issa Rae helped to bring all of this to the mainstream through Insecure.
And the references were on point! It's ok if you don't get every inside joke, whether you are Black or non-Black. Because of the range of Blackness, everyone could just embrace who they are without feeling like there is only one way to be.
Tough Conversations, Not Trauma
Insecure always had Black Twitter enraptured on Sunday evenings during a season. People had a lot of opinions about what happened in the show, and the show supplied us with endless fodder for conversation.
The show was not afraid to tackle topics typically taboo in the Black community. We got to talk about the double standard of bisexuality and masculinity, if cheating renders a relationship irreparable, navigating white spaces as a token, mental health/postpartum depression, and how self-doubt and imposter syndrome can show up for us all. The show always handled each conversation with nuance and care, without it feeling like an after-school special or an episode of Degrassi.
With so many shows that capitalize on the drama that is Black trauma like organized crime/violence as a result of racialized poverty, relationship abuse, and family trauma (or a news personality's book club), it is refreshing to watch a show that is just different. They were not afraid to get serious, but they also didn't have to dwell on trauma as a dramatic plot point.
We got to see regular Black people just be, and that probably affected me the most.
---
Not that you need their permission, but I have lots of white friends who loved Insecure. You should watch it and live-tweet your reactions. I guess Twitter is dying, so maybe do it on Threads? Let me know who your favorite character is (the answer is Kelli) and if you are Team Lawrence or Team Nate (only a slight spoiler).